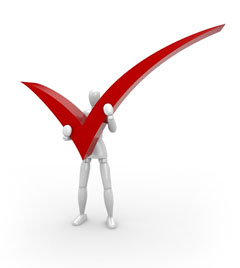 Here are just a few comments from satisfied clients…
"The first resume I mailed helped me get the position I really wanted. The hiring manager told me that my resume was the "best he'd ever seen", and I was one of 4 candidates out of 450 resumes that was selected for an interview. Thanks so much!"
Alonzo P. – Sacramento, CA
District Warehouse Manager, $8,000.00 monthly salary
"I was pleasantly surprised when I met with a human resources manager who told me that my resume (the one you created) was 'the best resume he had ever seen in all his years of experience.' Just thought you'd like to know. Thanks a million times over - I got the job!
Thomas M. - San Diego, CA
Chief Information Officer, $15,000.00 monthly salary
"The resume prepared for me got me a job earning $15,000 more than I used to make. All three people who interviewed me commented on how 'readable' it was. Thanks again!"
B. Cunnigham, Kenilworth, New Jersey
Sales Manager, $20,000.00 monthly salary
"Thank you so much for all of your excellent work! I am so pleased with my resume. I will recommend you to anyone in need of a great resume writer."
T. Muller Chicago, IL
Construction Business in Dubai, UAE, $25,000.00 monthly salary
"You are absolutely amazing. I cannot believe that you created that from the mess I sent you. I will be contacting my former co-workers tomorrow and highly recommending your service. Thank you so very much. I feel more positive now than I have in several days."
Tammie M. – Dallas, TX
Client Services Supervisor, $6,500.00 monthly salary
"Thank you so much for your help with my resume, cover, and thank you letter. I reviewed all 3 items, and they are perfect! I really appreciate the quick turnaround as well. I'll be sure to pass along your info to everyone else I know."
Ryan A. – Corona, CA
Commercial Real Estate Broker, $15,000.00 monthly salary
"Dear Razor Edge Resume Staff,
I just want to say "thank you" for your services. Everything looks Great. When my family and friends see my resume and ask me where I got it done, I'm going to refer them to you! Thanks again,"
Daniel L. – Washington, DC
E-Marketing and Advertising, $17,000.00 monthly salary
"Thank you Sir, Well done If I run across any one that needs assistance I will send them your way. Have a great day."
Elisabeth J. – Greentown, IN
Store Manager, $8,000.00 monthly salary
"Thank you! It looks great and I appreciate your attention to my needs and the quick turnaround. Thanks again!"
Nochollas R. – Los Angeles, CA
Freelance News Columnist, $12,000.00 monthly income
"Wow!!! Is that even me? Looks so awesome!
Thanks. :)"
Stuart V.R. – St. Petersburg, FL
Environmental Science Major, $11,000.00 monthly income
"I received the Resume and letters, they all look great!
Thank you for everything, and for sure I will recommend you."
Barbara L. – Bronx, NY
Executive Administrator, $25,000.00 monthly income
"Many thanks for your products! Prompt responses and your good wishes! Certainly need all those I can get right now. Now off to prepare for that forthcoming interview :)"
William Z. – Miami, FL
Administrative Assistant, $15,000.00 monthly income